E3 Price List and Sales System program
Elite Three or 'E3' for short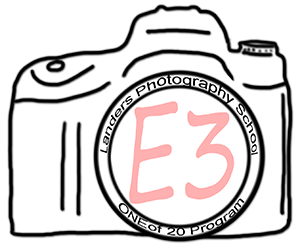 19 out of 20 people who start a photography business fail* within the first 3-5 years (*failing to be profitable).
The Best Job in the World is a full-time professional photographer! Well that's what I think! Of course it comes with a lot of stuff that we didn't expect and the details take WAAAAY longer than we ever thought they would.
So I have developed a complete way to make it so much easier in the long-run. There isn't a shortcut to a successful photography business. It takes determination, hard work, perseverance, dedication, the support of those important to you, and a
plan
. You must be committed to learning the business of photography.
To participate you will fill out the interview request form (link below) and be interviewed by Jim Landers to see if this is a good fit for you.


No one gets in without an interview. I have to know that you are extremely serious.
-it takes too many of my resources and too much of my time to not be strict about this.


Photographers must meet the following criteria to be considered:
Already started your business or about to (if you think you want to start in a few years, this isn't for you)
Wildly, ridiculously, seriously dedicated portrait or Wedding photographer, who wants to have a profitable photography business right here in San Antonio.
Must be able to meet for one hour and a half a week for nine weeks straight.
Must make sufficient time to complete all homework assignments on time (there is a lot of homework! -at least one to four hours)
Nine Rules
: You must agree to the following rules: If you cannot agree to even just one of them, you do not qualify as SERIOUS in my opinion!
1. 100% dedication –you cannot quit for ANY reason. (quitters will not get their money back, I can lead a horse to water but I cannot make him drink, that's on you)
2. You will take notes
3. You will complete (that means 100% complete) all homework assignments (no excuses)
4. your goal is 100% attendance – we will record the sessions, just in case you do have to miss
5. You will be on-time and you will not leave early, ever, no excuses (medical only)
6. All email, texts, and other forms of communication from me must be responded to within 24 hours
7. You will share your progress on Facebook (additional accountability)
8. No photography technique/equipment questions, this is the business of photography only
9. Rules may be amended, or added to at anytime

Note: This WILL BE DIFFICULT
will become overwhelmed


You will get frustrated


You will think about quitting


You will understand why it is worth it. At the point of frustration, know that it not a wall of frustration its a step. A step that you are incredibly close to getting past, but only if you make it happen. I am there to help!


Still with me! Great
click here for a little more info and an interview request form
.